CUs, League Host 15 Lawmakers, Candidates at NoVA-Area Legislative Reception
PHOTO: Credit unions hosted 15 lawmakers and candidates during a Legislative Reception in NoVA.
Credit unions and the League continued a successful series of statewide Legislative Receptions last night with an event in northern Virginia that drew 50 credit union advocates and 15 elected officials and candidates from across the region.
The event was hosted by Northwest Federal Credit Union in Herndon.
PHOTO: Credit unions continue to fight interchange legislation at the federal level in anticipation of Congress's return in September. We were excited to have the opportunity to catch up with Congresswoman Jennifer Wexton (left) at the Aug. 30 reception in NoVA, asking her to oppose the measure.
"The Congressional August district work period offers us a unique opportunity to reach our lawmakers at home, enabling those lawmakers to reconnect with credit union constituents and hear directly from us about our top-of-mind issues," said League President/CEO Carrie Hunt. "Adding to the importance of this year's legislative events is the critical state-level elections that will usher in a very different General Assembly in 2024."
Credit union advocates shared stories with lawmakers about their work to help members, showcasing the power of the "Credit Union Difference."
Congresswoman Jennifer Wexton (D-10), a longtime supporter of credit unions dating back to her service in the Virginia General Assembly, addressed attendees, noting her priority when Congress reconvenes is to keep the government fully funded, noting the tremendous impact government shutdowns have on the regional and state economies.
Attendees met with sitting lawmakers and several first-time candidates running for seats in the state Senate and House of Delegates. Based on retirements and results from the June primaries, more than two-fifths of the 40-member Senate will be new; so too will more than one-third of the 100-member House of Delegates. Election defeats would push the turnover higher. The League is leading credit union efforts to educate these candidates about how we differ from for-profit banks, as well as key financial services issues.
PHOTO: Credit unions and the League are preparing for a busy election season that will lead to unprecedented turnover in the General Assembly.
"With the influx of new lawmakers, there will be education and experience gaps that we'll need to address as it relates to credit unions and financial services," noted League Chief Advocacy Officer JT Blau. "These receptions are helping credit unions and the League build these all-important relationships early as we prepare for a busy 2024 session."
At the federal level, our advocacy focus remains interchange legislation, which would allow merchants to route payments through an unaffiliated network -- raising security risks and harming both consumers and credit unions. Credit union leaders shared their concerns about interchange legislation with Congresswoman Wexton (D-10), asking her to oppose the anti-consumer bill that stands to only benefit big-box retailers. We've also used this summer's receptions to champion other federal-level issues, including the Credit Union Board Modernization Act, which would provide new flexibility for federally chartered credit unions with regard to the required number of board meetings; data security and privacy; and measures that would expand consumer access to credit unions.
Advocates also had the opportunity to discuss a number of timely topics with sitting state lawmakers, including next week's General Assembly Special Session on the long-delayed state budget and the need for tools to help prevent elder financial abuse and fraud.
Special thanks to the credit unions in attendance at last night's event!
Apple Federal Credit Union
Healthcare Systems Federal Credit Union
Navy Federal Credit Union
NextMark Credit Union
Northwest Federal Credit Union
PWC Employees Credit Union
Legislative Receptions were also hosted this summer in Danville, Harrisonburg, Roanoke and Richmond. And still to come ... we look forward to hosting our next Legislative Reception in Greater Hampton Roads. Stay tuned for an announcement!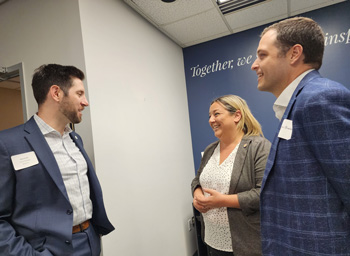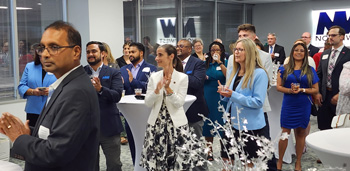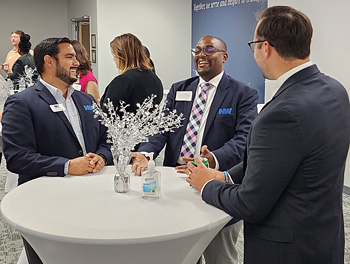 « Return to "League News Releases"
Go to main navigation