CUs, League Meet In Washington with Offices of Reps. Wittman, Kiggans, Beyer
Credit union representatives from ABNB Federal Credit Union and Chartway Credit Union joined the League to meet with staff for Congresswoman Jennifer Kiggans.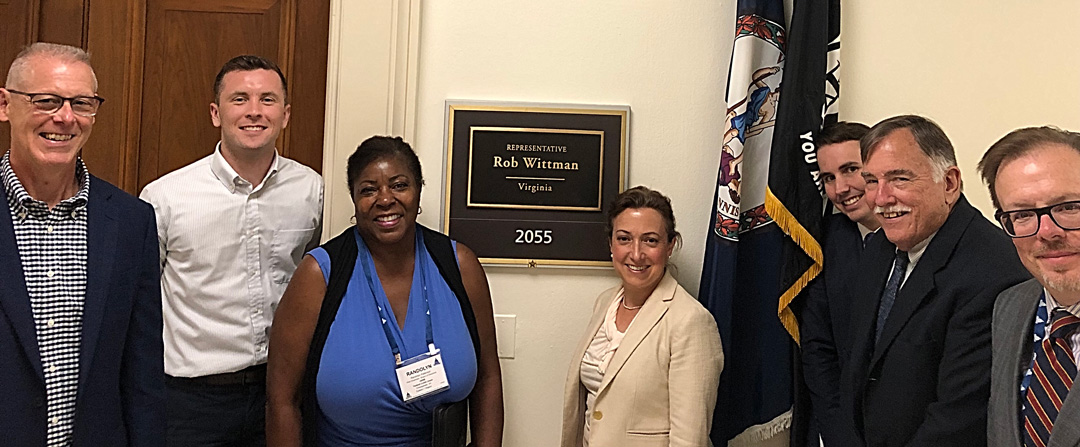 ABNB Federal Credit Union representatives joined the League for a meeting today with the staff of Rep. Rob Wittman.
Your League and Virginia-based credit unions are in Washington this week to meet with federal lawmakers as part of NAFCU's Congressional Caucus.
There are a host of issues of keen interest to credit unions on the Congressional agenda for the remainder of this year, including our ongoing battle against interchange legislation, funding the federal government, measures related to the CFPB, and legislation that would provide new flexibility for federal credit union board meetings.
Credit unions and your League met today with the offices of Reps. Rob Wittman (R-1st), Jennifer Kiggans (R-2nd) and Don Beyer (D-8th), covering those issues and others.
"Following an incredibly successful series of district-level legislative meetings this summer, we've now turned our attention to meetings with lawmakers in Washington," said League Chief Advocacy Officer JT Blau. "With Congress back in session, credit unions will need to remain engaged on our key issues, given that issues like interchange could be considered at any time."
We appreciate credit union representatives from ABNB Federal Credit Union, Apple Federal Credit Union, Chartway Credit Union, InFirst Federal Credit Union, and Northwest Federal Credit Union joining us today for our meetings!
« Return to "Latest News"
Go to main navigation