CUs, League Meet With Gov. Glenn Youngkin on CU Issues and Economic Challenges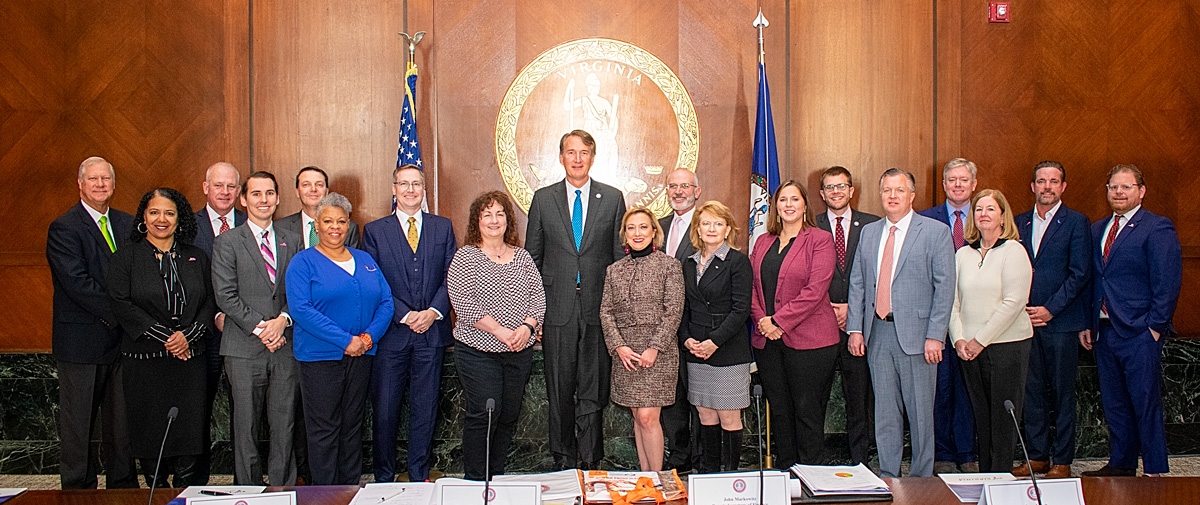 Representatives from more than a dozen credit unions and the League met today with Gov. Glenn Youngkin and key administration officials.
Dialogue with the governor's key policy advisors and administration officials included a host of issues: credit union growth, the future of cryptocurrency, service to underserved communities, permission for credit unions to accept municipal deposits, and the credit union difference.
Credit unions shared how they are serving their members and communities and updated the governor on the concerns shared across the financial services industry with regard to a rising interest rate environment and a challenging economy.
League President/CEO Carrie Hunt also shared credit unions' legislative priorities as we prepare for the 2023 session of the General Assembly.
Gov. Youngkin also noted his interest in financial education and preparing young people to not only successfully manage their day-to-day personal finances, but to have a knowledgebase that aids them in securing sound financial futures for themselves and their families.
Administration officials participating in today's meeting included Ali Ahmad (Director, Office of Policy and Legislative Affairs) and John Markowitz (Deputy Secretary of Finance).
Participating in today's meeting were: Jamie Asciolla (Argent Credit Union); Susan Gruber (UVA Community Credit Union); Amanda Habansky (Peoples Advantage Federal Credit Union); Katrina Hayes-Peerman (VSU Federal Credit Union); Brian Hedgepeth (Bronco Federal Credit Union); Johnna Muncy (Partners Financial Federal Credit Union); Paul Muse (1st Advantage Federal Credit Union and treasurer of the League Board); Karen Orie (Hampton Roads Educators Credit Union); Brian Schools (Chartway Credit Union); Bruce Six (Topside Federal Credit Union); Joe Thomas (NextMark Credit Union and chair of the League Board); Mike Warrell (ValleyStar Credit Union and member of the League Board); Chris Williams (Henrico Federal Credit Union; past chair and member of the League Board); Janine Williams (UVA Community Credit Union and secretary of the League Board); and League staff Carrie Hunt, JT Blau, CeJae Vtipilson and Lewis Wood.
« Return to "Latest News"
Go to main navigation