16 CU Professionals Earn EMERGE Leadership Certification Certificates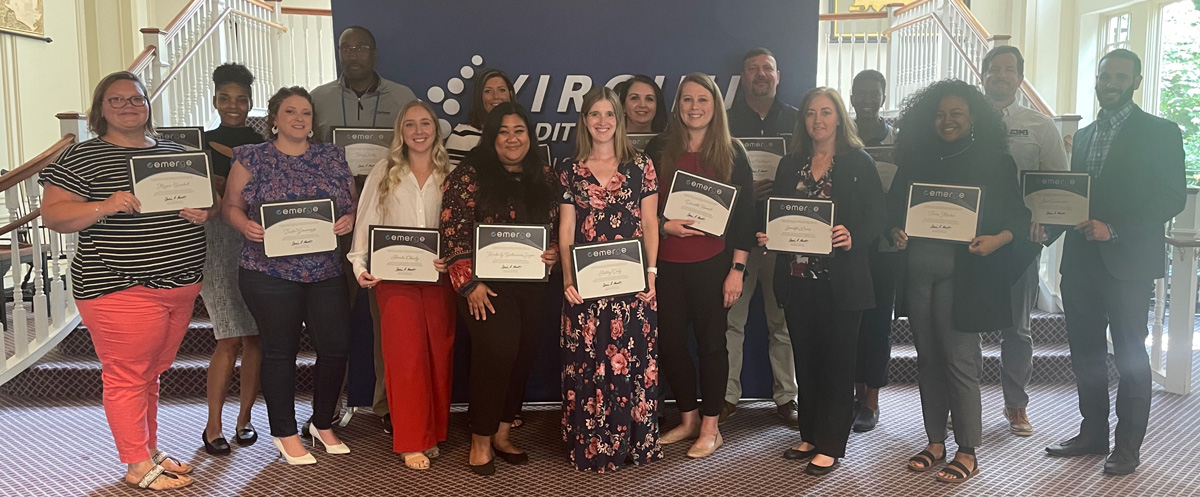 The Virginia Credit Union League was proud to honor 16 credit union professionals for completing the EMERGE Leadership Certification program on May 24.
The program consists of five core modules, including the EMERGE Conference, and is designed to help credit union employees …
Gain insights into their individual talents, motivations and potential.
Build a foundational knowledgebase related to leadership and communication.
Develop an inclusive mindset that understands the critical roles of diversity and belonging in today's business world.
Acquire a deeper understanding of the financial services and credit union industries, including financials and key ratios.
Grow and expand their understanding of the essential workplace skillset, including coaching skills and accountability; team-building dynamics and achieving better synergy in groups; the development of a strategic mindset; leading and managing organizational innovation and change; effective decision-making; and improving one's leadership and management style.
"The certification program is offering participants a firm foundation in leadership and communication skills, while also helping participants better understand their roles and how best to contribute to the success of their credit union," said League Vice President of Events and Education Mary Amyx.
The EMERGE Conference marks the next Certification program event. You can register for EMERGE here. All of the Certification program events can also be attended as one-off education events. You need not be a Certification program participant to attend.
« Return to "Latest News"
Go to main navigation