ABNB Opens New Wards Corner Branch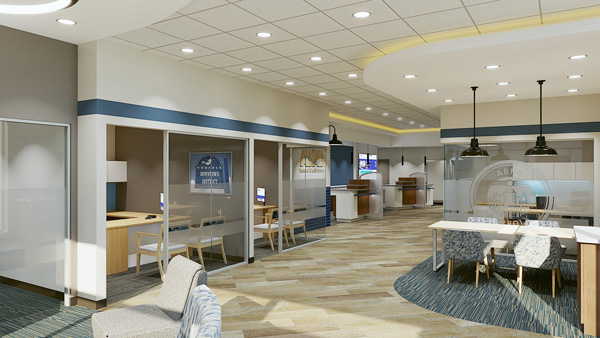 CONTACT:
Monte Crowl
Vice President of Marketing & Business Development
mcrowl@ABNB.org
Phone: 757.523.3320
Chesapeake, VA | September 5, 2023| For immediate release
ABNB Federal Credit Union announces the grand opening of its new full-service branch in the Wards Corner neighborhood in Norfolk. Located at 129 West Little Creek Road in Norfolk, the branch has drive-thru teller service and an onsite ATM.
This unique branch design will serve as a new working model for the credit union. Beyond traditional transaction-based products and services, ABNB will also focus on delivering mortgage services, business services, and investment services, all under one roof.
The official grand opening celebration takes place Wednesday, September 6th through Saturday, September 9th with refreshments served daily, prizes, and a special cash grab contest. In addition, ABNB will donate $100 to the Foodbank of Southeastern Virginia and the Eastern Shore for each new member who joins the credit union at Wards Corner in September.
"We're thrilled to be moving from our current Sewell's Point location to the Wards Corner area, and the response from the residents in the area has been terrific," stated Charles A. Mallon Jr., President and CEO of ABNB. "This is an important milestone in the history of the credit union, and all current staff will be moving to the new Wards Corner branch to serve members. I am excited for Bryan Sherman, Branch Manager, and his team to be quickly connected in the Wards Corner community," concluded Mallon.
###
ABNB is a full-service financial institution providing personal and business banking services to its members in Greater Hampton Roads, Virginia, and Northeastern North Carolina. With fourteen branches and a nationwide network of credit union service centers and surcharge-free ATMs, ABNB currently serves over 80,000 members. For more information visit ABNBfcu.org.
« Return to "Credit Union News"
Go to main navigation