Hump Day: Are NCUA's CAMELS Codes on the Rise?
During the NCUA's February Board meeting on Thursday, the Board issued a proposed rule to amend chartering and field of membership rules and adopted a final rule on cyber incident notification requirements. They also received a quarterly update from the Share Insurance Fund.
These updates, in addition to giving us insight and information on the financial details of the SIF, also update us on CAMELS code trends and the amount of assets and shares at higher risk credit unions. While quarter-to-quarter changes may or may not indicate an overall trend, it's worth examining the change in the last three months.
CAMELS Code 3
Q4 of 2022 saw a substantial increase in the assets and shares held by a credit union with a CAMELS Code 3.
As you can see, the driver of these increases is large credit unions. The number of $1 billion+ credit unions with CAMELS Code 3 increased from 6 to 12 in the 4th quarter, and the assets of those credit unions rose from $7 billion to $24.8 billion. The $500 million to $1 billion category also saw increases, from 8 credit unions with $5.1 million in assets to 12 credit unions with $7.2 million.
CAMELS Code 4/5
Q4 of 2022 also saw a rise in assets and shares held by a credit union with a CAMELS Code of 4 or 5.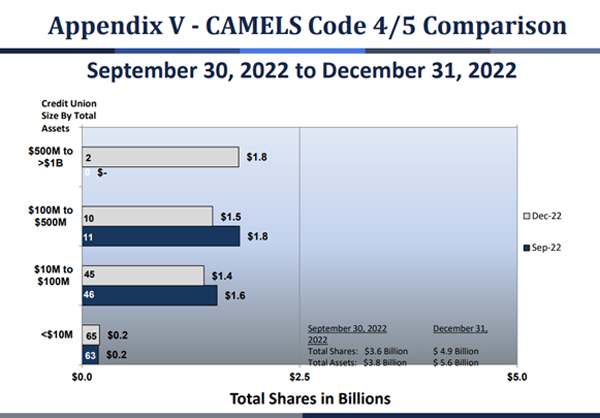 The biggest driver here was also correlated with asset size - at the end of Q3, there were no credit unions above $500 million in assets with a CAMELS Code of 4 or 5. By December 31, there were two, with combined assets of $1.8 billion. Total shares of CAMELS Code 4/5 credit unions rose from $3.6 billion to $4.9 billion in the fourth quarter, and total assets rose from $3.8 billion to $5.6 billion.
It's worth noting that the total number of credit unions with these ratings is not increasing as dramatically. There was only one net additional CAMELS Code 3 credit union in Q4 of 2022 (768 to 769) and two new CAMELS Code 4/5 (120 to 122). It's not that more credit unions are being downgraded, it's that bigger credit unions are.
What's Driving This?
In today's meeting, NCUA noted that when they reviewed the exam reports of credit unions who were downgraded to these higher risk ratings, liquidity and interest rate risk were the most frequently cited reasons. This is no surprise – these are two of the top issues credit unions have been facing for months as interest rates move higher and members dip deep into savings and checking to cover rising costs. These two risk areas are also, notably, the top two priorities on NCUA's 2023 Supervisory Priorities.
The NCUA Board also asserted that examiners returning on-site to credit unions for examination has played a role in the increase as well. Chairman Harper noted that on-site exams are critical to better testing of controls and uncovering fraud, and as examiners come back onsite, they expect more CAMELS Codes of 3, 4, and 5.
Can both of these things be true? Liquidity and interest rate risk are market-driven risk components that can be evaluated by looking at a credit union's call report, balance sheet, and investment and loan portfolios. It's difficult to see how an on-site examiner would reach dramatically different evaluations of these categories than a remote examiner would. If the downgrades were because of compliance or transaction risk, I could see a stronger connection. Regardless, it's no secret the NCUA is keen to have their examiners back on site, and will use any data as justification or support that they can.
The trend on CAMELS Codes 3, 4, and 5 is worth watching as we move into 2023. You can find the SIF Update slides here and you can view the entire board meeting on NCUA's YouTube page here.
You can read more about the Board meeting from CUNA here.
« Return to "REGular Blog"
Go to main navigation