Shift Happens: Free Webinar Series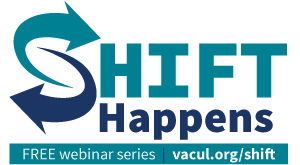 Since March, life in the U.S has changed, in ways we likely could not have foreseen. For the credit union system, the pandemic and the economic stress that followed have required us to rethink our strategies, retool products and services, and reimagine the member service experience. Getting our arms around both the opportunities and the challenges is critical if we're to quickly shift talent, resources, products and processes to keep pace with members' needs and the competition.
But that's only part of the necessary shift in today's "new normal." As leaders, we know you will face daunting challenges in the months ahead. You've told us of the concerns you have for the physical and mental health of staff and their families, the challenges of implementing a telework environment for many of your employees, and planning for a coming school year that might leave employees scrambling to meet childcare needs.
Our free "Shift Happens" webinar series will tackle these topics and more, with an eye toward helping you develop a mindset, focus and perspective that allows you to master the shift.

Speaker(s:) Kristin Harrison and Chris Leone, Web Strategies

We must learn to thrive amid uncertainty and accelerating change. That's the lesson a competitive marketplace teaches us. But were you ready for change and uncertainty brought on by the pandemic and the economic crisis that followed? The challenge we face today is a daunting one -- run our credit unions as efficiently as possible, while positioning it for new opportunities.
As leaders managing this "new normal," we'll need to lead with empathy, transparency and creativity.
During this presentation, we'll discuss:
motivation (how do we leverage employees' core values, define a clear mission with specific ways for employees to support it, create easy wins, and recognize both effort and outcome)
morale (how do we establish psychological safety, create connections, communicate hope, and promote and practice employee wellness)
team building for remote teams (to encourage focus, social connections and employee development)
Who should attend: Leaders, to include managers and supervisors
Speaker(s): Optima Health representatives

There's a lot for parents and children to worry about in this time of changing routines, schedules, and demands.
For many, stress extends beyond adapting our lives to take measures to stay healthy and productive while slowing the spread of COVID-19. Uncertainty about the future, concerns about health, and difficulty establishing a sense of calm and comfort can be particularly hard for children who have been diagnosed with anxiety disorders and those who are prone to anxiety.
Anxiety can be complicated and difficult for children and caregivers to manage. There are, however, strategies that may be helpful...
Speaker(s): Stephanie Osler, Children's Hospital of the King's Daughters
Osler has cared for children and their families in various clinical settings for over 20 years. She has been at CHKD since 2003, first as a licensed clinical social worker in the emergency department and then as program manager of the social work department.
In August of 2014, she was promoted to director and currently serves as the director of the CHKD Mental Health service line.
She has extensive training in leadership, program management, family systems, crisis intervention, trauma, suicide risk assessment and cognitive behavioral therapy. She provides strategic program development for the CHKD mental health service line, operations oversight, and vision for our mental health program expansion.

Our front-line staff, often overlooked in narratives about essential workers, are adapting to a host of challenges posed by the current health and financial crisis. They're working long hours to process emergency-relief loans, they're coaching members by phone on how to navigate online or mobile banking for the first time. They're also easing fears about the soundness of the banking system and the availability of cash. In some respects, staff on the front lines have become counselors. They're seeing widespread anxiety and fear of the unknown while helping members facing stressful financial issues.
During this session, we'll focus on:
Our new challenges in serving stressed members (higher levels of stress and intensified stress manifestations, personal financial hardship, new relationship strains)
Serving the member vs. serving the human (different needs, different focus!)
Member service basics
The importance of debriefing challenging customer interactions
Who should attend: Any employee will benefit, but front-line staff will find this session particularly helpful.
Speaker(s): Optima Health representatives

Never before will consumer perceptions of you tip the scales your way more than right now when it comes to choosing the brand they want to help put them at the forefront of their financial recovery.
Authenticity, transparency and empathy in a purpose-driven brand will set you apart and elevate you in the eyes of those seeking a partner willing to listen to their needs and find solutions through challenging times.
Join us for ideas, questions, polls and a fast-paced 40 minutes of:
Learning the right steps to assessing your brand from the inside out
Where and how to build your own unique, purpose-driven brand
How to guide your entire staff to total buy-in of your brand and future organizational success
Brand consistency is not an art project. Brands are shifting. The well-articulated ones will prosper. Will yours?
Speaker(s): Randy Schultz, Strum
Contactless Cards Are Gaining Momentum (Sept. 15)
Registration COming Soon!
Contactless cards are gaining a lot of momentum in the payments space for both debit and credit. U.S. merchant acceptance is growing. Learn more about the benefits for both consumers and issuers as well as an overview of the requirements and considerations to implement contactless cards at your credit union.
---
Previous Sessions
Smart brands have now recognized the massive opportunity presented them to build new connections and relationships with consumers. Let's face it -- Business Development on the consumer side as well as the small business-owner side -- is evolving at lightning speed. It's always been about building those face-to-face moments. But now, with so many channel choices to reach your finances, you must stop doing things the way they've always been done. Time to be brave!
Let's talk about how we put all the pieces together, like:
Using data to define the right target markets to match your strategic plan
How to find the businesses you want, that also have the employees you'd like as members – and who match your desired target profiles
The best way for you to connect with those you want to attract
How to find, apply and measure the right data for growth and profitability
Speaker(s): Randy Schultz, Strum
Go to main navigation