Shift Happens: Free Webinar Series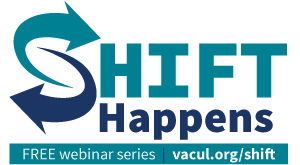 Since March, life in the U.S has changed, in ways we likely could not have foreseen. For the credit union system, the pandemic and the economic stress that followed have required us to rethink our strategies, retool products and services, and reimagine the member service experience. Getting our arms around both the opportunities and the challenges is critical if we're to quickly shift talent, resources, products and processes to keep pace with members' needs and the competition.
But that's only part of the necessary shift in today's "new normal." As leaders, we know you will face daunting challenges in the months ahead. You've told us of the concerns you have for the physical and mental health of staff and their families, the challenges of implementing a telework environment for many of your employees, and planning for a coming school year that might leave employees scrambling to meet childcare needs.
Our free "Shift Happens" webinar series tackled these topics and more, with an eye toward helping you develop a mindset, focus and perspective that allows you to master the shift.
---
Recorded Sessions
Speaker: Tammie Harvey, CUNA Mutual Group
Speaker: Randy Schultz, Strum
Speaker: Kristin Harrison and Chris Leone, Web Strategies
Speaker: Optima Health representatives
Speaker: Stephanie Olsen, Children's Hospital of the King's Daughters
Speaker(s): Optima Health representatives
PowerPoint Slide Deck (2.2MB / PDF)
Speaker(s): Randy Schultz, Strum
Go to main navigation