ValleyStar Credit Union Announces New Vice President of Facilities and Security
CONTACT:
Stephanie Potter, Marketing Manager
Phone: 434.770.3116
email: stephaniep@valleystar.org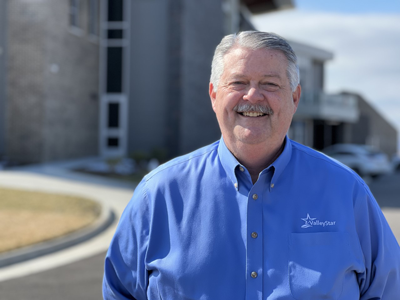 Martinsville, Virginia (March 18, 2022) – ValleyStar Credit Union announces Tony Turner as its vice president of facilities and security. In this role, Tony will collaborate with all teams to ensure that employees and members feel safe and enjoy their experience while visiting and working in ValleyStar facilities.
Tony joined the ValleyStar team in 2017 as the facilities and security coordinator and has spent the last four years collaborating with outside vendors and managing the numerous ValleyStar facilities.
"Tony's years of experience in law enforcement and security have made him a valuable asset to ValleyStar," said Mike Warrell, CEO of ValleyStar Credit Union. "We look forward to his guidance and leadership as he oversees and ensures the safety of our team, and our members."
Before joining the credit union in 2017, Tony spent 31 years with the City of Martinsville Police Department. He served as a patrol officer, community policing bicycle officer and investigator. He retired in 2017 as the lieutenant of the criminal investigation unit.
Tony holds an associate degree from Danville Community College in criminal justice and has received many certificates in leadership development skills.
We speak your language. Since 1953, the ValleyStar team has guided, educated and stood by its members to make banking and managing your finances as easy and convenient as possible. The credit union is $600 million in assets, serving cities and counties in Virginia and North Carolina. ValleyStar is a full-service financial
institution that offers consumer and commercial products and services.
Headquartered in Martinsville, Virginia, ValleyStar operates digital banking services and seven physical branch locations in Collinsville, Danville, Martinsville, Richmond, Roanoke, Rocky Mount and Waynesboro, Va. and a loan center in Fishersville, Va. For more information, visit valleystar.org. We'd love to speak with you.
Go to main navigation