Peoples Advantage Federal Credit Union Officially Opens Financial Empowerment Center at Ribbon Cutting Ceremony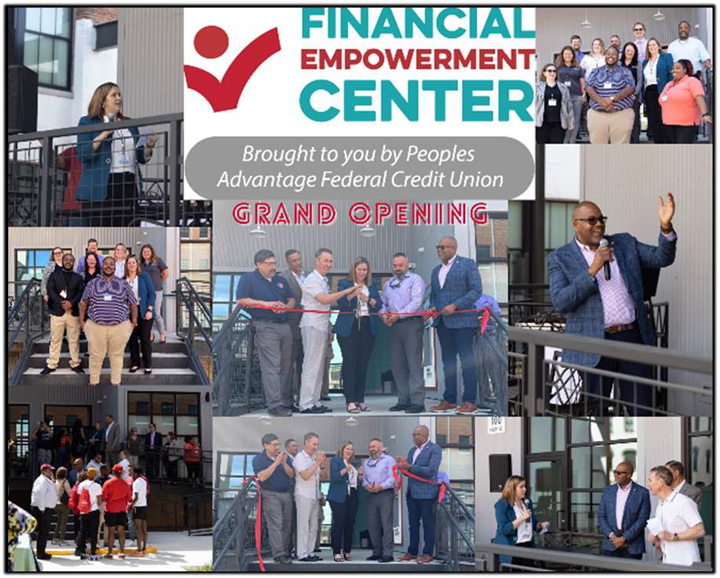 CONTACT:
Amanda Habansky
President/ CEO
804.748.3081 ext. 723
adhabansky@peoplesadvfcu.org
Petersburg, VA, April 15, 2022 --- On Friday, April 15, 2022, Peoples Advantage Federal Credit Union (PAFCU) celebrated the grand opening of their Financial Empowerment Center. This center is designed to offer credit reviews, educational seminars, and classes, and provide other credit union accommodations. The center will also provide a full-service ATM, available 24/7.
A ceremony was held at the Financial Empowerment Center location, off Perry Street and was attended by John Brandt, the Executive Director of the Chamber of Commerce, W. Howard Myers of the Petersburg City Council, Mayor Samuel Parham, Senator Joseph Morrissey, Justin Cousins, the Chief Operating Officer of PAFCU, and Amanda Habansky the President/CEO of PAFCU, along with other city officials and credit union representatives.
The location on 100 Perry Street holds such a historic value to the City of Petersburg as it served as the hub for tobacco industry for many years and ultimately the Brown & Williamson factory. In 1985, Brown & Williamson consolidated its operations and closed the Petersburg plant. Since 2014, the City of Petersburg has committed to the
revitalization of the historic area.
Peoples Advantage is a certified Community Development Credit Union (CDFI) headquartered in Petersburg, VA. As a CDFI, PAFCU is committed to delivering affordable financial products to help members of the community, that access has often been limited. Members of PAFCU also benefit from an entire suite of products created to establish and rebuild credit. These include Reliable Rides auto loans, Affordable Home Ownership Products, Fresh Start Checking accounts and Payday Alternative solutions.
"Thank you to Peoples Advantage for expanding and providing much needed services into this community. Financial Education is so important and having a hub that will be able to empower that is truly an honor. We are excited for the support that you will provide to consumers and small businesses." said Mayor Samuel Parham.
"We're thrilled to welcome PAFCU to the City as a partner to support the economic development in downtown Petersburg. PAFCU offers products that can serve this community well and we are looking forward having them at Artist Lofts." said W. Howard Myers of Petersburg City Council.
"We have been rooted in Petersburg since 1966 and are extremely excited to do whatever is needed to provide much needed services in the heart of the Historical District. We welcome all from the community and will do everything necessary to ensure everyone who walks into the Empowerment Center can see everything that we have to offer. We have been looking forward to this day for quite some time." said Justin Cousins, COO, Peoples Advantage Federal Credit Union.
"Financial Empowerment in Petersburg has been a mission of the credit union for many years. This new space provides a convenient location and a welcoming atmosphere for members of the community to seek financial support and products that can help them achieve financial stability. People who are financially stable have less stress, fewer health and domestic problems and can foster economic development in their community," said Amanda Habansky, President/CEO, Peoples Advantage Federal Credit Union.

Additional contacts
Justin Cousins
Chief Operating Officer
804.748.3081 ext. 778
jcousins@peoplesadvfcu.org
Afton Pryor
Community Development Specialist
804.748.3081 ext. 747
apryor@peoplesadvfcu.org
Go to main navigation