Hampton Roads Educators Credit Union Awards Scholarships to High School Seniors, School Employees
CONTACT:
Sue Thrash, Marketing & Business Development
Hampton Roads Educators Credit Union, Inc.
2130 Cunningham Drive
Hampton, VA 23666-2502
(757) 838-0707 Ext. 107
www.hrecu.org
HAMPTON, VIRGINIA (March 25, 2021) – Hampton Roads Educators Credit Union (HRECU) awarded four scholarships to local high school seniors and school employees.
"We had an incredible pool of applicants this year. It's always difficult to narrow down the winners," stated HRECU Manager/CEO Karen Orie. "We know this year was challenging for everyone. We wish the class of 2021 success in everything they do!"
Congratulations to the following 2021 recipients of HRECU Scholarships:
$1,000 Career Development Scholarship was awarded to Alauna Samuels. Samuels will graduate from Hampton High School and plans to attend Norfolk State University as a Pre-Nursing major in the Army ROTC. She plans to use her degree to become an advocate for women's reproductive health, in addition to serving the community in her career field.
$1,000 Naomi J. Chadwick Memorial Scholarship was awarded to Aliyah Walker, a Hampton High School senior. Walker plans to attend James Madison University in the fall where she will study Psychology with an emphasis on Criminology. She plans to pursue a career as a FBI Profiler.
$1,000 Laura W. Twyford Memorial Scholarship was awarded to Austyn Haywood, a senior at Smithfield High School. Haywood plans to attend James Madison University to pursue a degree in Elementary Education with a minor in English. Her goal is to teach first grade. Haywood also plans to pursue an American Sign Language Certification to work with deaf and hearing-impaired children.
$1,500 Post Graduate Studies Scholarship was awarded to Chelsea Hilliard. Hilliard is a Counselor at Jamestown High School. She is pursuing her PhD in Counselor Education and Supervision at Old Dominion University.
Austyn Haywood
Chelsea Hilliard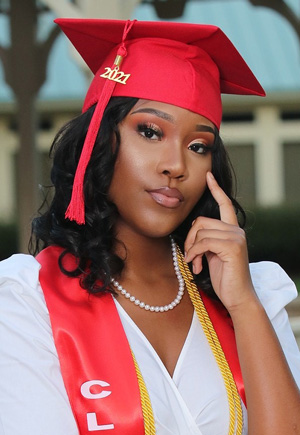 Alauna Samuels
Aliyah Walker
ABOUT HAMPTON ROADS EDUCATORS CREDIT UNION:
Chartered in 1954, Hampton Roads Educators' Credit Union operates one branch located on Cunningham Drive in Hampton, VA, and is a full-service credit union serving school system retirees, staff and students in Gloucester (including municipal employees), Hampton, Isle of Wight, Mathews, Middlesex, Poquoson, Surry, Williamsburg/James City County, Thomas Nelson Community College, Hampton University and the many private schools located within these areas.
# # #
Go to main navigation