Chartway FCU Welcomes Jim Bibbs as Associate Director
CONTACT
Heidi E. Worker
Director of Communications
(757) 222-3028
heworker@chartway.com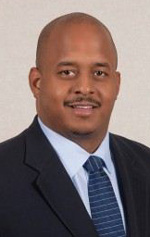 Virginia Beach, VA (August 26, 2020) – Chartway Federal Credit Union is proud to welcome Jim Bibbs to its newly established associate director development program, designed to provide a prepared slate of board succession candidates to ensure board leadership continuity.
Bibbs has more than 20 years of leadership experience developing and leading highly successful human resource infrastructures within multi-site, global, and Fortune 500 companies, including the Port of Virginia, Quintiles, and Citi. He currently serves as the chief human resources officer for LifeNet Health.
Additionally, he is the vice chair of diversity & inclusion for the Hampton Roads Chamber of Commerce and chair of the personnel committee for Lead Virginia. Recently, he also served as chairman of the board for the Urban League of Hampton Roads, Inc.
"Well known and admired for his commitment to quality, service, and uncompromising ethics, we look forward to welcoming Jim as associate director," said George Sauer, Chartway's board chair. "He's an innovative, thoughtful, and resourceful leader in our community whose exceptional business, leadership, and communication skills align well with our people and community-focused values."
Bibbs holds a bachelor's degree in communications & media studies from Lock Haven University and a master's degree in organizational leadership from Gonzaga University.
ABOUT CHARTWAY FEDERAL CREDIT UNION
Chartway Federal Credit Union, a not-for-profit financial institution, has been proudly serving members for more than half a century. Guided by its vision, mission, and values, the $2.3 billion credit union is dedicated to making life more affordable for its 190,000 members through more than 30 branches and online, mobile, video, and telephone banking services, including mobile deposit, mobile bill pay, and digital wallets.
As one of the largest credit unions with membership concentrations in Virginia, Utah, and Texas, Chartway is consistently recognized for its financial strength, its ability to make life affordable for its members, and for its philanthropic efforts through its charitable arm, the We Promise Foundation, which has raised more than $11 million to provide life-changing experiences that bring joy, hope, and smiles to children facing medical hardship or illness. For more information, visit www.Chartway.com; or, visit them on Facebook, Twitter, or Instagram.
# # #
Go to main navigation