Rick Pillow Recognized with Virginia Credit Union League's Kirsch Lifetime Achievement Award
CONTACT:
Lewis Wood
Vice President, Public Relations & Communication
800.768.3344, ext. 629
lwood@vacul.org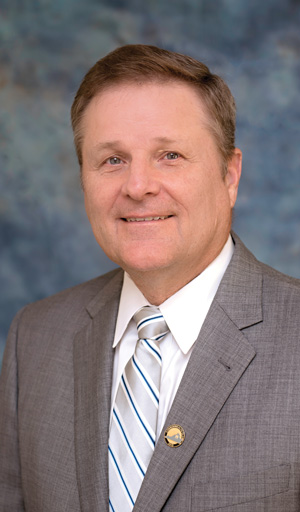 Rick Pillow, retired president of the Virginia Credit Union League, was honored Nov. 11 with the organization's highest individual honor, the James P. Kirsch Lifetime Achievement Award.
The James P. Kirsch Lifetime Achievement Award recognizes individuals who devoted their time and talents to ensure a brighter, better future for credit unions. It is named in honor of the late James P. "Jimmy" Kirsch, a longtime credit union volunteer whose passion for credit unions led him to leadership roles at the state, national and international levels.
"As someone who knew Jimmy personally, I appreciate this award for the high honor that it is," said Pillow. "I'm grateful to the League Board for this recognition and I'm thankful to past and present Board members for their leadership and to League staff members for their support."
Pillow retired in June 2021, after a 40-year career in the credit union industry, including service for more than two decades as the League's president.
"I was honored to serve Virginia's credit union system," said Pillow. "What a privilege it's been to have known and to have worked with so many wonderful people over those four decades, and I'm grateful and humbled by the difference they made in my life on both a personal and professional level."
Pillow's career in credit unions began in 1978, when he was hired by the League to serve as a consultant to credit unions. For the next two decades, he would serve in various positions with the League, its corporate credit union, and with Martinsville DuPont Employees Credit Union (now ValleyStar Credit Union) (1982-1986). In 1997, he was promoted to Executive Vice President of the League and succeeded Eugene H. Farley Jr. as League President on Jan. 1, 2000.
His long, distinguished career as League president saw the establishment of the Credit Union House of Virginia in downtown Richmond as a lobbying and operations hub; the evolution of the League's advocacy infrastructure to better facilitate credit unions' grassroots efforts, political fundraising and regulatory advocacy; the launch of a host of new products and services within the League and its service corporation; formation of the League's charitable foundation; and recently, the creation of The Raiffeisen Group (TRGroup), a multi-League organization offering products, services and professional development opportunities to more than 700 credit unions.
Pillow's service to credit unions extended beyond Virginia, including leadership roles on the Boards of Directors for the Credit Union National Association (2006-2008); the American Association of Credit Union Leagues (2003-2009); the national Credit Union House in Washington, D.C. (2001-2009); the national Credit Union House's original Construction Oversight Committee (2000-2001) and TRGroup (2017-2021).
About the Virginia Credit Union League
The Virginia Credit Union League is the state trade association for the Commonwealth's not-for-profit, member-owned credit unions. Through leadership, vision and the trust of our credit unions, the League is ensuring the growth, success and diversity of Virginia's credit unions. Learn more at vacul.org.
Go to main navigation