League, Virginia CUs Meet with NCUA Board Member Rodney Hood
Two dozen representatives from your League and Virginia-based credit unions met with National Credit Union Administration Board Member Rodney Hood and a member of his staff to discuss key regulatory issues.
"My goal at NCUA is to ensure we offer regulatory flexibility and empower credit unions to serve their members," said Hood.
League President/CEO Carrie Hunt thanked Hood for his service on the NCUA Board, noting his focus on helping credit unions succeed in an increasingly competitive marketplace. Hood's term ends in August 2023.
Hood said he wants credit unions to explore potential partnerships with fintechs, as a means of meeting the financial services needs of today's members, who increasingly look to manage their banking with a few simple clicks.
"It's important credit unions educate themselves on leveraging these partnerships," while remaining focused on both the regulatory compliance requirements and guidance related to such services and the ethical issues surrounding the products and services we offer.
He noted several personal regulatory priorities:
(1) Cybersecurity - Board member Hood noted the ever-increasing cybersecurity risks within the financial services industry and the growing sophistication among cybercriminals. He urged credit unions to be especially vigilant now given recent geopolitical events and encouraged credit unions to make use of the tools provided by NCUA.
(2) Bank Secrecy Act - Hood noted that BSA regulations could use some fine-tuning, but the agency takes its responsibilities under this law very seriously. Technological advances and the emergence of entrepreneurial financial technology firms are transforming the delivery of financial services, but they are not without risks. BSA laws must adapt in terms of coverage, and they must be flexible to ensure our BSA/AML regime maintains its integrity.
In acknowledging the resources required of credit unions related to Currency Transaction Reports, Hood noted that CTRs don't "fall in a black hole" when filed. They do aid law enforcement and they do lead to criminal convictions.
(3) Managing risk - A topic priority for NCUA, Hood noted the immediate need for credit unions to carefully consider interest rate risk, working to position their balance sheets for a rising rates environment. He also thanked credit unions for taking prudent steps to boost loan loss reserves as we worked through the pandemic.
(4) CECL - Credit unions have worked diligently to prepare themselves for CECL, Hood said, and he hopes there are opportunities to make the rule more palatable for community-based financial institutions.
(5) Financial inclusion - Credit unions are perfectly positioned to lead the financial services industry in addressing financial inclusion, Hood said.
"This goes beyond ethnicity. It's about having an expansive view of service. I have consistently characterized financial inclusion as the civil rights issue of the 21st century. There is a clear business case for credit unions to enhance their outreach to underserved and underbanked populations. [We need] to bring more Americans into the financial mainstream and provide them with greater access to safe and affordable financial services."
(6) NCUA Office of Innovation - While Chairman of NCUA, Hood served as a champion for the agency's Office of Innovation, an initiative designed to look at fintech and technology as a means of fostering financial inclusion and helping credit unions meet today's tech challenges.
Credit unions participating in the meeting were: Argent Credit Union, Chartway Credit Union, CommonWealth One Federal Credit Union, Eastman Credit Union, Healthcare Systems Federal Credit Union, Navy Federal and UVA Community Credit Union.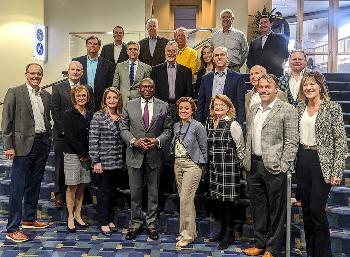 Go to main navigation