League Celebrating the Commonwealth's Credit Unions at CUNA Governmental Affairs Conference
Photo left: League Board members Jeff Bentley (Northwest Federal Credit Union) (left) and Joe Thomas (NextMark Credit Union) were the Commonwealth's flag bearers at the opening ceremonies of the GAC.
Virginia is well-represented at this year's CUNA Governmental Affairs Conference, with more than 130 attendees on hand from 18 Virginia-based credit unions.
Your League hosted more than 70 credit union supporters at a special reception at the national Credit Union House. We were pleased to be joined by a representative of Rep. Morgan Griffith's office.
The GAC is the nation's largest gathering of credit union advocates, each year bringing thousands to Capitol Hill to lobby for credit union interests.
Several prominent members of Congress addressed the CUNA Governmental Affairs Conference (GAC) via video Monday, including Speaker of the House Nancy Pelosi (D-Calif.). Pelosi thanked the CUNA-League system and credit unions for their commitment to "our shared values" and saluted CUNA's committed leadership for bringing the "voices of 130 million credit union members to our nation's capital."
"For more than eight decades, CUNA has been a pillar of our nation's credit unions that serve as a local bedrock, bringing critical financial services home to our families and small businesses—from cities and suburbs to rural communities," Pelosi said. "As our nation battles the pandemic, credit unions have continued to offer essential financial services to many working families and small businesses across America."
Photo left: Attendees at a special roundtable hosted by Inclusiv heard Monday from Virginia Sen. Mark Warner. Sen. Warner has been a staunch advocate in the financial inclusion and community development movement, championing various initiatives for the recovery of underserved communities from the COVID-19 pandemic, including the passing of $12 billion dollars in funding to support CDFIs and MDIs. Chairman of the U.S. Senate Select Committee on Intelligence, Sen. Warner also discussed the situation in Ukraine and the potential impact of the war there on the U.S. economy.
Pelosi said she was proud of legislation passed that would get funding to credit unions and other community lenders, and gave a special thanks to the California Credit Union League.
"Personally, I've witnessed the extraordinary impact of credit unions in San Francisco and across California through the California Credit Union League. Thank you for all that you do on behalf of our state," she said.
Rep. Steve Scalise (R-La.), House Minority Whip, gave a special shoutout to the Louisiana Credit Union League and thanked credit unions for their advocacy to block expanded Internal Revenue Service (IRS) reporting requirements.
"America's credit unions have perfectly demonstrated how we can come together and provide for the financial well-being of all Americans during these challenging times," he said. "You are truly an essential resource for the financial well-being of your 130 million members."
Sen. Sherrod Brown (D-Ohio), chair of the Senate Banking, Housing, and Urban Affairs Committee, thanked credit unions for their member and community service in Ohio and across the country.
"We've always needed strong credit unions, your work to serve your members is fundamentally more important now than ever because you're there when the big banks won't lend to workers and small businesses, you're there when Wall Street again refuses to reinvest in communities," he said. "You help so many Americans participate in our economy, opening bank accounts, building businesses, buying first homes, saving for their children's future."
Brown said he's fighting to make sure credit union members have the resources they need to lift up communities, while ensuring a level playing with banks and fintechs.
Rep. Patrick McHenry (R-N.C.), ranking member of the House Financial Services Committee, pledged to support credit union priorities, and also thanked credit unions for their IRS reporting advocacy. Note: Virginia-based credit unions produced more than 5,000 communications to lawmakers in opposition to the IRS's planned expansion of reporting requirements for financial institutions.
"For more than 100 years, consumers have benefitted from the unique products and services provided by credit unions," he said, adding that he and his colleagues are prepared to "fight to provide the support so you can keep the good work you do for the next 100 years, and beyond."
Related News: NCUA outlines regulatory initiatives for 2022
Related News: NCUA Vice Chairman Kyle S. Hauptman Addresses Innovation at 2022 Governmental Affairs Conference
Related News: NCUA Board Member Rodney E. Hood Addresses the 2022 Governmental Affairs Conference
Related News: Nussle: Be partisan for credit unions
Related News: Financial well-being is 'critical' to credit union advocacy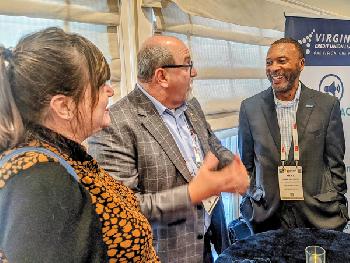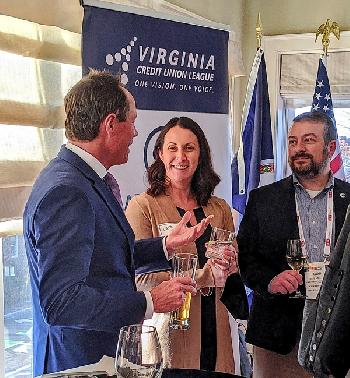 Go to main navigation