Commonwealth's Credit Unions Recognize UVA Community Credit Union's Alison DeTuncq with Lifetime

Achievement

Award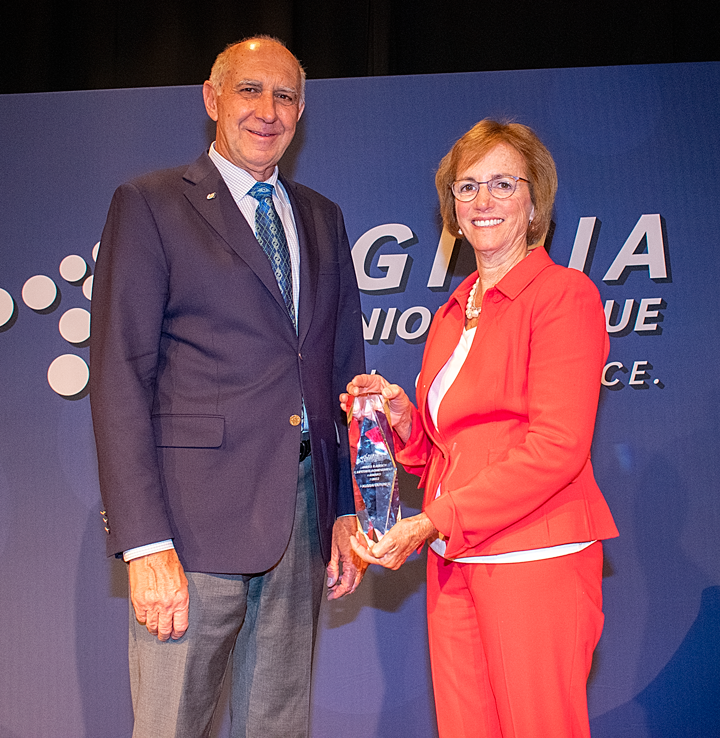 UVA Community Credit Union's Chairman of the Board Jeffery C. Moscicki with President/CEO Alison DeTuncq, who received Virginia Credit Union League's highest individual honor, the James P. Kirsch Lifetime Achievement Award, on Thursday, April 21, 2022.
Janine Williams
Senior Vice President of Marketing
UVA Community Credit Union
marketing@uvacreditunion.org
434.964.2008
Lewis Wood
Vice President, Public Relations and Communications
Virginia Credit Union League
pr@vacul.org
434.237.9629
RICHMOND, Va., April 26, 2022 - UVA Community Credit Union President/CEO Alison DeTuncq has been awarded the James P. Kirsch Lifetime Achievement Award, the Virginia credit union system's highest honor.
The Kirsch Lifetime Achievement Award recognizes individuals who devoted their time and talents to ensure a brighter, better future for credit unions. It is named in honor of the late James P. "Jimmy" Kirsch, a longtime credit union volunteer whose passion for credit unions led him to leadership roles at the state, national, and international levels.
DeTuncq was recognized for her contributions to the credit union industry and her leadership of the Charlottesville-based UVA Community Credit Union, which currently serves more than 72,000 members and boasts assets of more than $1.4 billion. DeTuncq plans to retire this year after 32 years of service to the credit union, including 23 years as President and CEO.
"The success of her own credit union and the tremendous impact it's had on the greater Charlottesville community is a testament to Alison's leadership, her commitment to innovation and service excellence, and her dedication to credit unions' 'People Helping People' philosophy," said Virginia Credit Union League President/CEO Carrie Hunt, while presenting the award. "Her service to the credit union industry speaks to her selflessness and the passion she has for credit unions. We proudly honor Alison for a remarkable career as a leader and as a champion for our industry."
Although her chosen career path was non-profit community health administration, DeTuncq accepted a job as a branch manager at UVA Community Credit Union, believing it offered great work experience and an opportunity to continue building a career in the world of not-for-profits. A decade later, she would be named President/CEO of the credit union.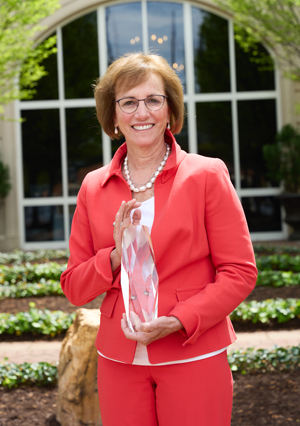 "It's incredibly rewarding to be a part of the credit union movement," said DeTuncq. "I feel particularly blessed to work with such an outstanding staff, management team and board of directors. They live our mission of service to members and our community every day."
UVA Community Credit Union -- a full-service financial services provider – is among the largest credit unions headquartered in the Commonwealth. Through an extensive branch network and digital channels, the credit union serves individuals and businesses across 25 counties and cities.
The credit union is a recognized leader in delivering financial education to both members and its communities, including student-run branches at schools across its service area. The credit union's partnership with the Internal Revenue Service's Volunteer Income Tax Assistance Program (VITA) provides free tax preparation to qualified participants and generates an annual economic impact of more than $1 million for the Greater Charlottesville community.
UVA Community Credit Union was also one of 18 lenders chosen by the U.S. Department of Housing and Urban Development to test-pilot its loans program to aid homeowners in making improvements to their homes to boost energy efficiency. It was one of the first lenders to develop and provide FHA PowerSaver Loans. The credit union has also been recognized for its work in offering Small Business Administration loans and for the success of its mortgage lending subsidiary, Member Options LLC.
Committed to the success of the credit union industry, DeTuncq has served in various volunteer roles during her career, including membership on the Virginia Credit Union League's Budget and Dues Committee and service as president of the League's Central Virginia Chapter, a network of credit unions headquartered in and around Charlottesville and Waynesboro. She is an active member of the League's Estonia Partnership Committee, which works jointly with the World Council of Credit Unions to aid the growing credit union system in the Baltic nation of Estonia.
DeTuncq served on the board of directors for VACORP Credit Union from April 2002 until its merger with Mid-Atlantic Corporate Federal Credit Union in 2012, when she was elected to Mid-Atlantic's board of directors.
She was the first chairman of the board of VIZO Financial Corporate Credit Union following the merger of Mid-Atlantic and First Carolina corporate credit unions in 2016. VIZO Financial serves more than 1,200 credit unions in the U.S. and Canada.
A civic leader, she is a member of the board of directors for the Piedmont Virginia Community College Foundation and the Shenandoah National Park Trust. DeTuncq also served on the board of directors for the Charlottesville Regional Chamber of Commerce, the Albemarle Housing Improvement Program and the United Way – Thomas Jefferson Area.
"I've really loved working for a financial institution that embraces its social mission, and which believes the needs of its members must always be the priority," said DeTuncq. "It's such a wonderful group of peers managing Virginia's credit unions, as well. I feel fortunate to have made lifelong friends within the credit union system."
###
UVA Community Credit Union is an award winning not-for-profit, member-owned cooperative that provides a wide range of convenient and professionally managed personal and business financial services to its more than 72,000 members. Membership is open to everyone living, working, or attending school in, and businesses located throughout Virginia's Central Piedmont and Valley area. Mortgage services provided by Member Options, LLC NMLS #194038 (nmlsconsumeraccess.org) a wholly-owned subsidiary of UVA Community Credit Union. Insured by NCUA. Equal Opportunity Lender.
The Virginia Credit Union League is the state trade association for the Commonwealth's 108 not-for-profit, member-owned credit unions. Through leadership, vision and the trust of our credit unions, the League is ensuring the growth, success and diversity of Virginia's credit unions. Learn more at vacul.org.
Go to main navigation